So here's a major problem I have with the kind of guy John L. Smith is: On the one hand, he makes these grand gestures, obviously heart felt and personal, by supporting these "St. Baldrick's Foundation" events for kids who suffer from cancer. The foundation raises money that goes to cancer treatment by holding head-shaving events throughout the country. Smith's own daughter suffered from cancer years ago. And of course, that's a terrible thing no child and no parent should ever have to deal with. However, on the other hand, we know that when he could, and when he had the means, he didn't foot the bill for his daughter's cancer treatment. And he opted to utilize the Ronald McDonald House charity, which exists to help support people with little or no means with housing. And they don't turn away anyone.
Here's the kicker, though. When John "The Con" filed for bankruptcy, we see that he stiffed the very people who treated his daughter for cancer – just outright didn't pay them.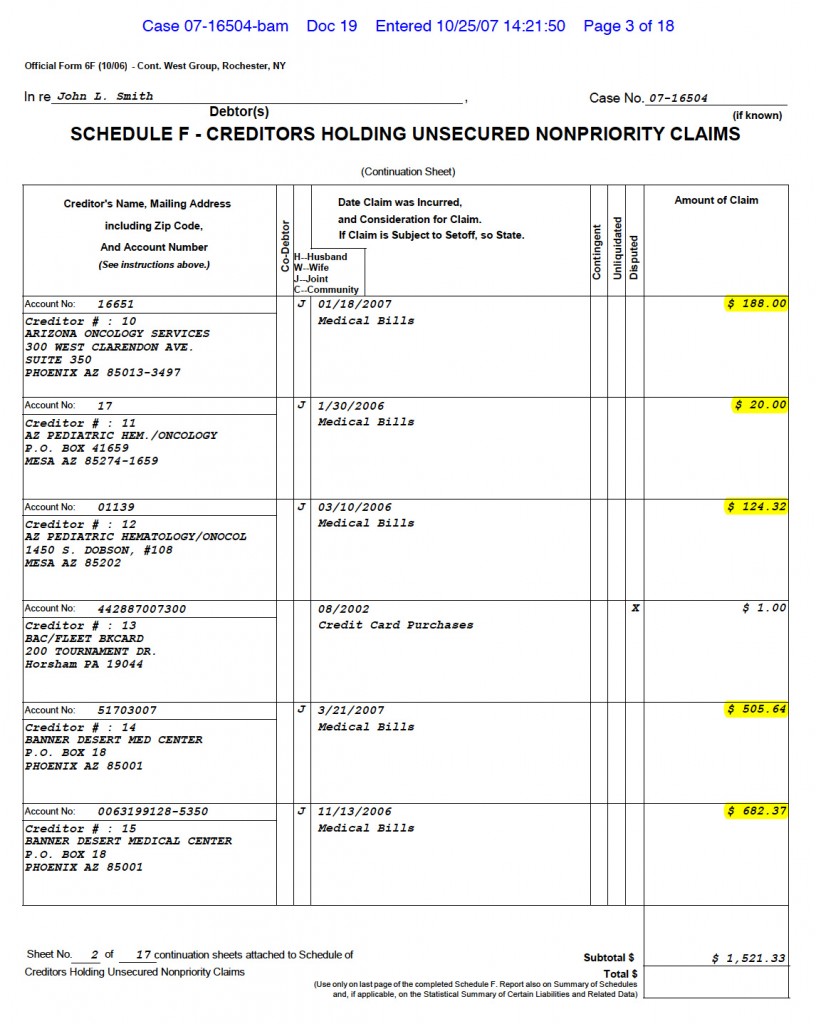 Check out just a few examples illustrated in this post (see above – click on it to see a larger file size). There's an unpaid bill for $188 from Arizona Oncology Services. There's another one for $20 from the AZ Pediatric Hematology/Oncology group. And one from the same group for $124.32. And another one from the Banner Desert Medical Center for $505.64; and another one from them for $682.37.
Now John "The Con" L. Smith wasn't exactly hurting at the time, financially. He had saved almost $206,000; he owned some pricey real estate and at the same time was making a salary somewhere in the low six figures.
Why? Why not pay those bills? We're talking about $1300 or so in these examples. Subtract that from the nearly $206,000 he had saved, and if you're John "The Con" L. Smith, you're still looking at being able to hold onto more than $204,000.
What am I missing? What sort of logic am I not seeing?
As I mentioned in an earlier post, my significant other and I have donated more money to the Ronald McDonald House over the years than Smith has spent there for his own daughter's cancer treatment. I find that just incredibly sad. And I find that it speaks volumes about the kind of man John "The Con" L. Smith is.