Brought to you by our companion collaborator, "Awkward Family Photos," (just kidding about that) here now are the Top 10 awkward moments for columnist John L. Smith of the Las Vegas Review-Journal:
10. Opting out of paying for his daughter's cancer treatment. Smith's daughter suffered from cancer years ago. And of course, that's a terrible thing no child and no parent should ever have to deal with. However, we know that when he could, and when he had the means (accounts with a total of more than $200,000 in them), he didn't foot the bill for his daughter's cancer treatment. He opted to go to the Ronald McDonald House charity, which exists to help support people with little or no means with housing. And they don't turn away anyone. But here's the kicker. When John "The Con" L. Smith filed for bankruptcy, we see that he stiffed the very people who treated his daughter for cancer – just outright didn't pay them.
9. John L. Smith's LVRJ column about Michael McDonald and Miracle Flights for Kids. It's interesting that John L. Smith took Michael McDonald to task for having "personally benefitted" from a loan McDonald helped arrange from a children's charity (Miracle Flights for Kids) while serving on the board of Med Lien Management — the organization that would receive the $2.2. million loan, according to Smith's reporting. And afterwards, according to that reporting, McDonald received a $140,000 shareholder loan. Kind of ironic, isn't it, that Smith, who used a charity for underprivileged families and who filed bankruptcy to avoid dealing with a huge libel case and his own daughter's cancer care, would call out a guy like McDonald in his column for doing what he did.

8. The five articles he wrote on me, Steve Barket. I'm certain that those articles were inspired by a certain lawyer who was trying to win a case and was trying to trash my reputation by feeding inaccuracies and untruthful information to John L. Smith, who wrote about what in the grand scheme of things was really a nothing case.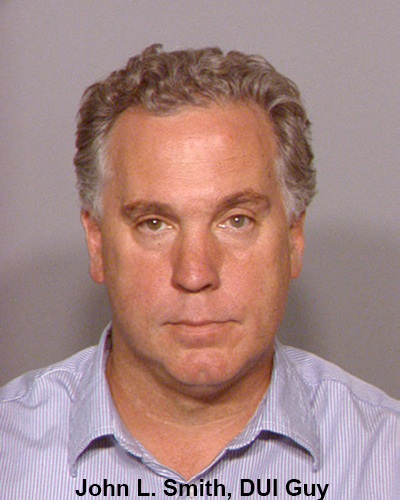 7. His DUI arrest. JLS was pulled over and cited for DUI back in early 2011. He pleaded "no contest" on Feb. 24, 2011. And that arrest really became the impetus and inspiration for the creation of this blog, which I've used to shine a light into places that almost never have a light shined on them and exposed to public scrutiny. I think Mr. Smith now has a feeling about how HIS hit jobs in the newspaper have affected regular citizens trying to do an honest day's work. Like me.
6. His divorce. Not too long after his DUI, John Lyle Smith and his wife Patricia Goldberg Smith (also know as Pamela Goldberg) filed a divorce proceeding on April 29, 2011. Prior to that, I had been in possession of information that I declined to print, which included alleged stories of Smith's excessive drinking and womanizing. But I chose the high road and declined to accept the pictures or print anything about that. The photos had been taken in the parking lot of the Coffee Pub off of Sahara Ave. in Las Vegas, Nevada. Given the divorce filing, which came sort of out of the blue, I understand a little better what that backstory is all about.
5. John L. Smith's alleged ex-girlfriend talks. In an email to me, a woman claiming to be Smith's ex-girlfriend tells me that Smith is, "an unscrupulous liar and cheat and one day will get all the payback he deserves." (Is that possibly coming soon with the Adelson family purchase of the Las Vegas Review-Journal?) The email writer also said, as I also have been saying for quite a while, that Smith is NOT the man of the year he seems to be purporting to be. There was quite a bit of detail in the email regarding personal information related to Smith, which supported this woman's claim of being an ex-girlfriend.
4. John L. Smith breaks his leg. Seemingly in response to the bad karma that the supposed ex-girlfriend said would come his way, Smith sustains a broken leg – multiple fractures, according to her. As they often say, "karma's a bitch."
3. The $15 million libel suit Sheldon Adelson brought against him. JLS wrote a book published by Barricade Books in 2005 entitled, "Sharks in the Desert: The Founding Fathers and Current Kings of Las Vegas." Adelson was a topic of discussion in the book. Adelson is one of the wealthiest men on the planet, worth billions. What Smith wrote about Adelson in the book was not truthful. Adelson didn't like that. So he sued Smith and the book publisher for libel to the tune of $15 million. And it wasn't about the money for Adelson. It was about Adelson wanting to set the record straight.
2. John L. Smith's bankruptcy. As a result of that $15 million lawsuit, Smith declared bankruptcy. With the bankruptcy filings, we see the assets Smith had, as well as who he owed money to and ultimately stiffed.
And the number one awkward moment for Las Vegas Review-Journal columnist John L. Smith:
1. Finding out that the person who slapped him with a $15 million libel suit and one of the richest men in the world, Sheldon Adelson, just bought the newspaper where he works! Tick, tick, tick, Mr. Smith. How long do you figure you have to continue to be gainfully employed at the LVRJ knowing that your new boss once sued you into bankruptcy?!?! For LIBEL!!!! Not a comfortable position for a newspaperman like yourself to be in.