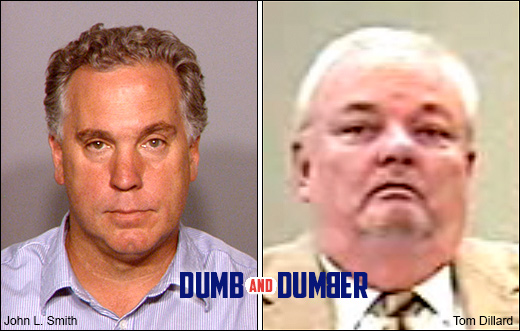 After thinking about this a little bit, what we have with Tom Dillard ex-metro cop and John L. Smith is a clear-cut case of "dumb and dumber."
Investigator and former Metro cop Tom Dillard and his cohort in the press, John L. Smith of the Las Vegas Review-Journal, in my opinion, conspired to try to intimidate and/or embarrass me years ago during a FBI case and investigation.
And how do you do that? Well, one way is to work the media — in this case, a person I call the untruthful reporter, John L. Smith. So if you're Dillard, and you're feeding false and incomplete information to a media representative who is writing about this case, you can be pretty effective if you can convince that person to write derogatory items about me.
Dillard picked the wrong guy to "INTIMIDATE". Through his shenanigans, Tom Dillard has cost the tax payers of Clark County, Nevada, millions of dollars. And he has inflicted mental anguish on countless people.
Well things have changed a lot since 2009. John L. Smith has been having a rough go of things (just check out the blog posts detailing all that on this website, johnlsmithlibel.com). Tom Dillard seems to have fallen by the wayside, too, as his office has been closed down with signs in the window that the property is for sale.