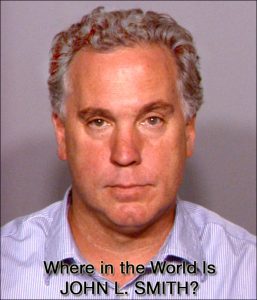 John L. Smith is the hardest working man in the opinion/commentary writing business these days. Or is he?
He left the Las Vegas Journal review almost a year ago and he's barely been heard from since.
He landed a gig on KNPR and now writes about once a week for an audience of about two. Ok, it's more than two, but the weekly audience is minimal — 70,000-plus, which is a drop in the bucket in the Las Vegas market, which has a total population of close to two million in the Metro area. In comparison, the Las Vegas Review Journal, where Smith was formerly employed, has a Sunday circulation of 184,000, according to it's own self-reported numbers.
Smith has essentially disappeared from public view and relevance. (Seriously, do YOU make sure you're at a radio so you can listen to John L. Smith when he's on KNPR? Do you even know when he airs on KNPR? I thought so.) He's effectively dropped off the face of the earth. He also has his columns published on The Daily Beast, so that should count for something. I guess. After all, it's ranked as the 393rd-most trafficked website in the United States according to Alexa. So there's that. (Is that the sound of crickets I'm hearing?)
Now wait, though … to be fair he does have a Twitter account. And he does have his own website. On Twitter, he describes himself as a "freelance journalist." Uh-oh.
So goes the the life of the man I like to call "The Untruthful Reporter." John L Smith: DUI, arrest, bankruptcy, libel suit, divorce — when you look for clues about someone's life and these sorts of labels pop up related to that person you know there's trouble. He's trying to keep this all in the shadows, while I'm trying to expose it to let people know just what kind of guy he is. I won't state my opinion here — you can already guess — but I ask you to think about these labels, understand how they relate to John L. Smith by reading other posts and pages on this website, and form your own opinion.
Fake news? Think about it. It certainly was in my case after being called out by John L. Smith as a bad guy in the five untruthful articles he wrote about me in the LVRJ. For a little more perspective on that, check out my website post on Transparency: The Reason for This Blog.