JOHN L. SMITH — A LITTLE MAN
WITH LITTLE EXPOSURE & LITTLE CREDIBILITY*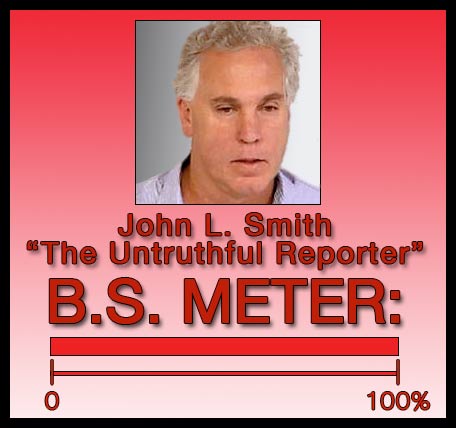 Father time tells all. John, you need to update your pictures online. You haven't looked like that old Review-Journal photo in years; no one could ID you in a lineup if they had seen that photo and had to pick out from among a handful of other guys. You're still trying to push your BS agenda, and you're still "The Untruthful Reporter" in my opinion. We still want to know, did you get fired from the Review-Journal? You say you resigned in protest because the LVRJ wouldn't unchain you and let you write about Sheldon Adelson, so I'm wondering where all those hard-hitting pieces are on him. I'm hearing crickets.
You picked on wrong guy all those years ago, when you took about two minutes to think about what you were writing about me. (You should have known better than to believe everything you were spoon-fed about me by someone who clearly had an agenda against me.) And now you're out of a job — for a number of years now — and still have no credibility.
Even though it looks like you're getting some help with your Search Engine Relevancy, it also looks like you must be the least-hardest working man on the Internet. You may have gotten your personal website bumped to the top of the first page of Google search results, but I'm not really sure how you've done that, as your primary website, jlnevadasmith.com, pretty much has nothing on it — links to a handful of $2 books you've written (at least one of those books had a used copy starting at 10 cents — woooo!), an email page, a brief bio page, something called Nevada Smith Press (which is still under construction at the time of this writing), and that's pretty much it. Underwhelming.
Same with his Twitter account, @jlnevadasmith (Twitter handle). A whole bunch of re-Tweets and not much else.
It must be tough to be the least-hardest working man on the Internet.
*In my opinion.