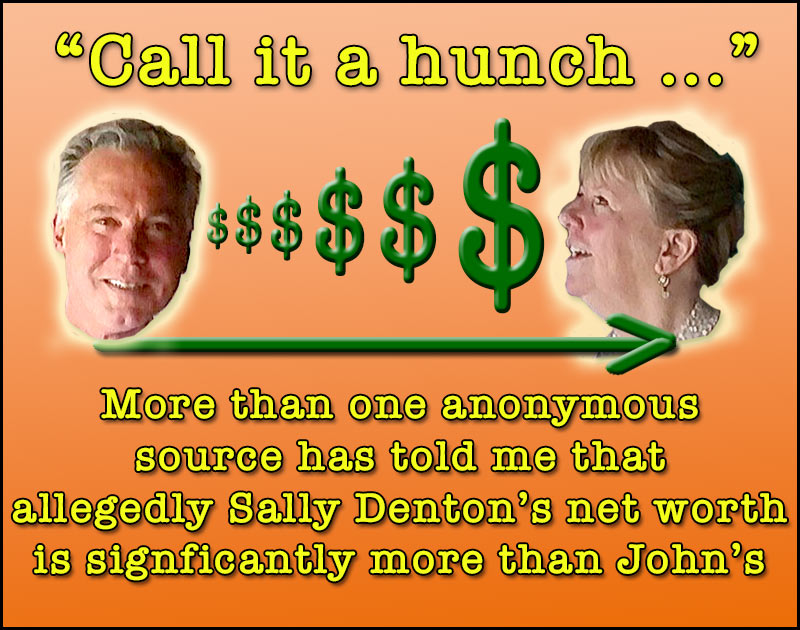 LOL!
Call it a hunch, but I doubt it. (By the way, Happy Birthday, Sally!)
Story No. 2 from John L. Smith and the Las Vegas Review Journal has suddenly appeared at the top of Google search results when you search my name – Steve Barket Las Vegas.
Here's a clip of the top of the story with headline showing: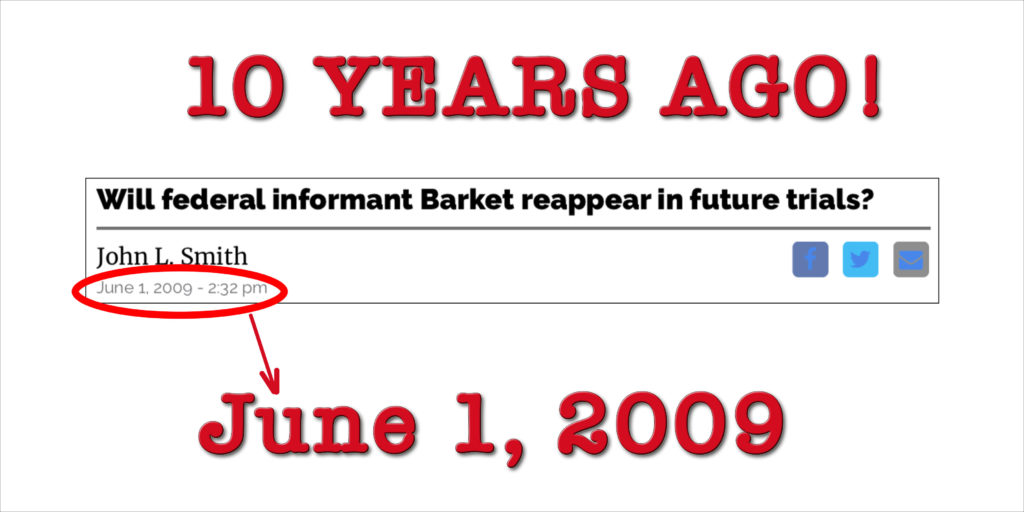 There's something going on here, and I believe there's quite an intricate web of co-conspirators at work. Yep, call me a conspiracy theorist.
Since the resurface of this 2009 case, I have decided to do an entire website specifically on Ricardo Bonvicin, his bankruptcy, an astonishingly large payout to him by the state of Nevada, and his continuing financial challenges.
Then there's Tom "The Walrus" Pitaro (that's what he looks like to me, LOL) – and the story of how his own brother sued him and then eventually died. What good ol' Tommy boy doesn't realize is that through an attorney who no longer lives in Las Vegas, I was put together with his brother while he was still alive. We had quite a conversation.
And then there's also Thomas Doyle Dillard, the ex-Metro cop turned P.I., who I have recently personally seen walking into Pitaro's office while I was driving by. He looks like an old beatnik with pure white hair and a goofy goatee. Over the years, John L. Smith had a relationship with Dillard, some of the highlights of which he forgot to publish. One of them cost the state $2 million for withholding exculpatory evidence that would have exonerated an innocent man in a high-profile murder case; what that man went through as a result, even though he was ultimately cleared, destroyed his life. A number of years later, the real killer was found. I agree with the jury's opinion in the case, in which they labeled Dillard as pure evil.
Recently Dillard bought new home and moved to other side of town. How this guy can look in the mirror after hurting people the way he has and causing the kind of devastation he has caused and still go to sleep is a mystery to me.
The three men mentioned above – Bonvicin, Pitaro, and Dillard – were supposed to be standup guys serving the public. In my opinion, they were anything but that. Credibility can be a very elusive thing when you behave the way these three have, in my opinion.
I have been told by anonymous sources that allegedly Sally Denton, John L. Smith's new wife, who is closing in on septuagenarian status, (that's 70 years old – she turns 66 on Sept. 26; JLS hasn't yet reached the age of 60) has financial wealth and stability, at least more than John L. Smith has.
So, let's just call it a hunch!
I'll let you readers do the math and see if all this adds up to what I believe is a concerted effort to drag my name through the mud 10 years after the fact. Why else would two 10-year-old stories suddenly surface at the top of a Google search under my name?