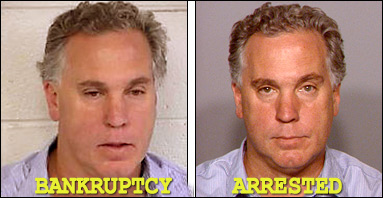 I read an item with interest the other day on the poitical Web site Politico titled, Sheldon Adelson Tightens Grip on Review-Journal.
The thrust of it, at least as far as I'm concerned, was that apparently a list has been developed that contains the names of a half-dozen or so journalists who "may be targeted for departure" because they "rubbed Adelson the wrong way."
That jives with what I've heard as well, and I can't help wondering if one of the names on that list is columnist John L. Smith.
For a little quick background, you might remember that billionaire Sheldon Adelson bought the Las Vegas Review Journal, where Smith is employed, late last year. Adelson and Smith have a somewhat strained history. Adelson sued Smith into bankruptcy in a $15 million libel suit about falsehoods Smith wrote about him in a book published several years ago.
With Adelson taking over ownership of the LVRJ, speculation immediately began about the kind of changes that Adelson would make at the newspaper. My take on it was that Smith would be one of the ones on the short list to get booted out the door. I'll reference an article I wrote, titled "Top 10 Awkward Moments for Las Vegas Review Journal Columnist John L. Smith". In that item, I wrote that the No. 1 most awkward moment for Smith was the following:
"1. Finding out that the person who slapped him with a $15 million libel suit and one of the richest men in the world, Sheldon Adelson, just bought the newspaper where he works! Tick, tick, tick, Mr. Smith. How long do you figure you have to continue to be gainfully employed at the LVRJ knowing that your new boss once sued you into bankruptcy?!?! For LIBEL!!!! Not a comfortable position for a newspaperman like yourself to be in."
A while back, I also wrote a post about hoping that John L. Smith never had to look for another job, because the way his real resume might read might come across as not so professional — John L Smith, Here's Steve Barket's Wish: That You Can Always Keep Your Job at the LVRJ! … LOL! And if a future employer ever Googled him and came across this blog — well, let's just say it might give them pause in the hiring process. (Give it a try — Google John L. Smith's name, or John L. Smith and Las Vegas Review Journal and see how high this blog ranks in the results.)
So we'll wait to see how this all plays out. You already have my opinion about how this is going to go for Smith.